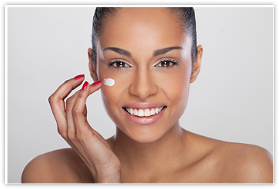 Diamond Microdermabrasion
Cosmetic procedure to remove top layer of sun damaged and dead skin, leaving skin looking healthier and smoother.

Personalized Facial
Customized facial for that particular clients needs/ skin type: oily, dry, or combination)

Rejuvenating (Anti Aging)
60 minutes designed to revive the skin using our Revision skincare line exclusive to our spa. Great for ageing, dull, dry skin.

Clarifying Facial/Acne Facial
60 minutes this facial is to unclog pores and get rid of black heads using extractions to achieve clearer skin. Great for acne prones skin and hormonal breakouts.

Quick Fix/Lunch time Facials
This 30 minute facial is customized to fit your skin type. Great for lunch breaks or quick pick me up. Back Facial
30 minutes Facial for the back known as the bacial. Sometimes it's hard to reach that area and get a deep clean.

PRP Facial
Plasma Rich Protein facial- make use of your bodies own healing collagen and add it to your facial

Exfoliating Facial Peel
Facial peel, great for any skin type. Peel leaves your skin rejuvenated and fresh.






Top of Page



Complimentary Services for First time guest (Eye brow, Underarm, Bikini line )
Eyebrow
Lip
Chin
Full Face (brow ,lip, chin, sides)
Bikini
Brazilian
Leg
Arms
Under arms






Top of Page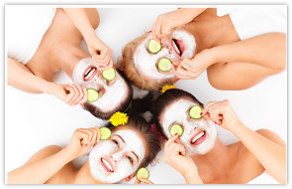 Xeomin (botox)
Radiesse (fillers)






Top of Page







Makeup Application
w/strip lashes
w/fiber lashes






Top of Page








Simple Micro-needling
Deep exfoliation using our rejuvapen. Intense treatment produces collagen to achieve clearer, healthy skin. Also reduces the experience of fine lines and wrinkles. Great for acne scarring and stretch marks.
(Number of sessions is dependent on skin type and treatment plan)

PRP Micro-Needling






Top of Page




Galvonic Facial Tightening
Recommended 6 treatments over 6 consecutive weeks

Galvonic Body Contouring
Recommended 6- 8 treatments over 6-8 consecutive weeks*







Top of Page